The apartment hunting process might seem a bit overwhelming, especially if you need to quickly find the right place. When you're searching for apartments, one of the most important things to pay attention to is whether the listing is legit.
Unfortunately, the pandemic has fueled rental fraud. According to the TransUnion's survey, the frequency of rental fraud in the multifamily rental industry has increased by 50% since the pandemic began.
Obviously, even with fraud prevention procedures, fake listings can still find a way to slip through. Therefore, it is important to learn how to identify fraudulent listings in order to prevent yourself from becoming the victim of a rental scam.
Red flags to watch out for:
If the advertised price looks too appealing or the whole rental process is suspiciously easy, double check whether the property owner or agent is legitimate. Rental rates well before market value could mean either the property is in a bad condition and needs maintenance or you're looking at a fake listing.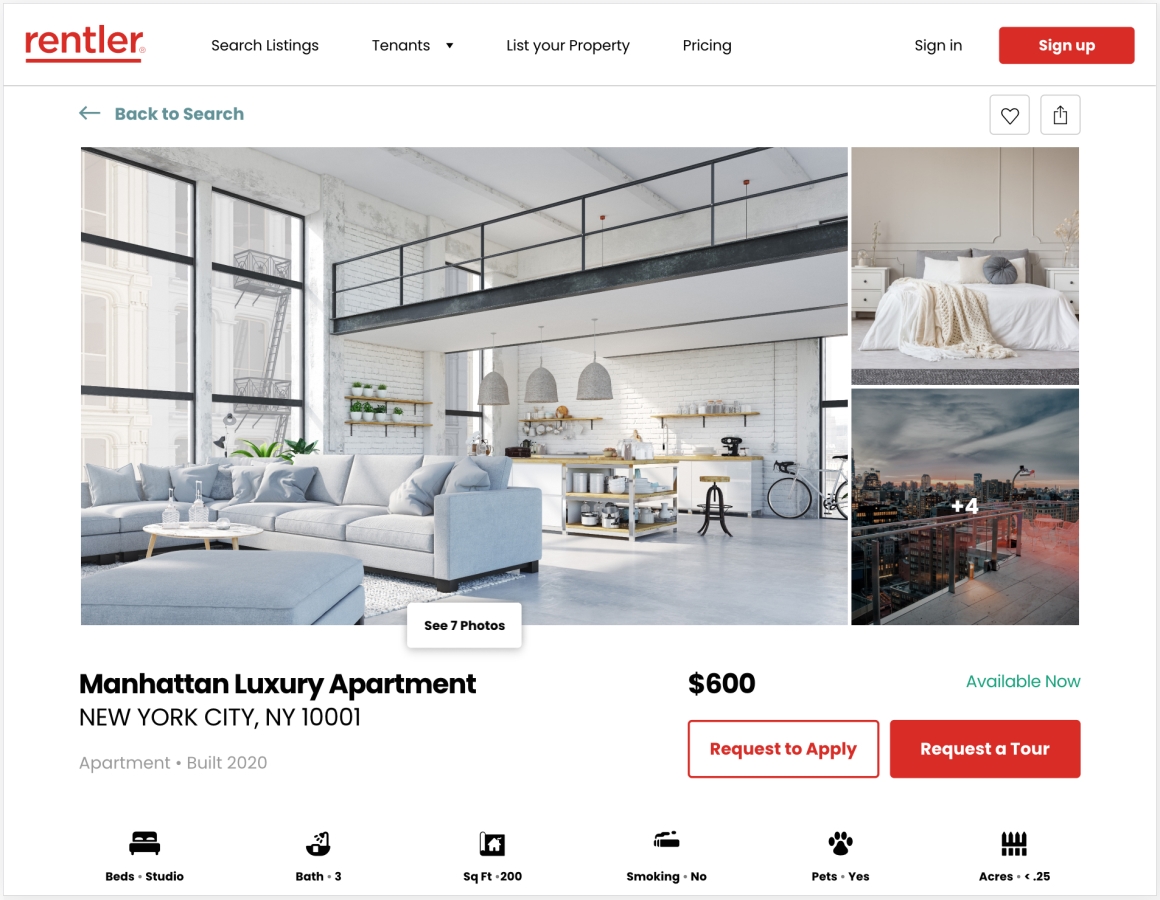 High security deposit and/or upfront payments.
Most landlords require a security deposit before moving in a tenant. It is a common practice. However, if the deposit is obviously too high for the property you're applying for, it can be a red flag.
Also, never send any upfront payments to a landlord if you haven't seen the rental yet or if you're unsure the landlord can be trusted.
Landlord seems too enthusiastic.
As a rule, landlords request certain personal information from applicants to verify their identity and ensure they are letting in reliable people.
It's suspicious if a landlord does not run a background and credit check on a prospective tenant. It is also strange if they rush you to make a final decision because "they have other applicants interested in the property," and if you don't close the deal immediately, you might lose the chance to occupy their "gorgeous rental."
A landlord says you don't need a lease agreement.
Beware of landlords who try to convince you that a written lease contract isn't obligatory and that they typically use verbal agreements with their renters.
Why would a landlord refuse to sign a lease agreement? The answer is simple… the landlord is a scammer!
Other red flags to pay attention to:
They say that they will "mail you the keys."
They are never able to speak with you on the phone, or meet you in person.
The listing contains grammatical errors.
How to protect yourself from fake listings:
Don't fall for listings that look unrealistically good.
Review similar listings in the neighborhood and compare the prices. You'll definitely notice if something's wrong. Overall, thoroughly researching the rental market or reaching out to a real estate professional is a good idea.
Don't sign anything before you see the property.
Even though it's potentially risky to set up an in-person rental showing amid the pandemic, requesting a virtual tour to view the rental is a great solution. Only after you've made sure the property images on the listing site are real, should you consider e-signing the lease agreement.
Get a copy of the signed lease agreement.
Don't forget to get a copy of the lease document signed by both parties. If necessary, hire a lawyer to help you with the lease details.
Don't pay any fees before signing an agreement.
If a potential landlord requires extra fees before the lease is signed, it could be a sign of a scam. While an application fee is a common request, any other upfront fees could be problematic.
Our fraud prevention team is constantly working on maintaining a safe environment in regards to rental listings. All the listings that come through the Rentler website are thoroughly checked by our professional team and in the case of any suspicious signs, are deleted shortly. However, it's sometimes hard to detect a rental scam right away, so if you happen to notice any fraudulent listings on the Rentler website, please contact our support team to address the issue immediately.