Are you renting an apartment or small home and expecting a child? If so, you may be asking yourself, where will all that stuff go? Although nurseries may seem complex, there are really just a few things to consider. Where will they sleep, where will they be changed, and where will their stuff go? Here are my favorite small space nursery hacks that help answer those three questions.
The Crib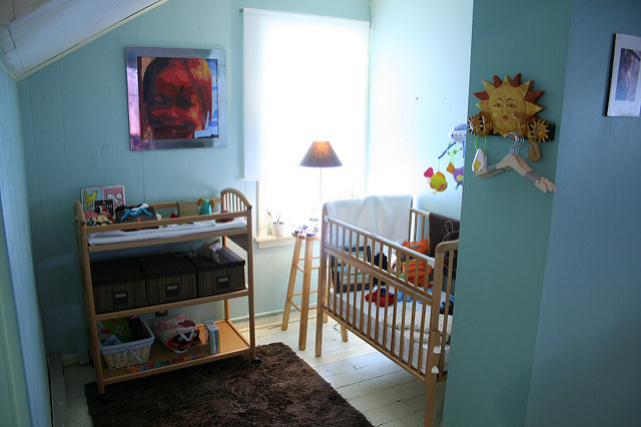 Putting the Crib in Your Room
There are so many different sleeping options for babies. A standard-sized crib, a tiny crib, and a co-sleeper to name a few. If you are thinking of adding the crib to your room, then consider pushing it tight up against the walls. Use the surrounding space around the crib to push other furniture up against, like a dresser or night stand. There are also products like bassinets that are smaller, but still have enough room for baby to sleep comfortably.
Putting the Crib in ANY Open Space
Maybe you don't have room for a crib at all. You're not alone! I have a friend that once used a decent sized hallway right outside of her room as their baby's "room". Find an open space in your apartment or home that you can fit at least the crib and changing table. The rest you can store elsewhere.
Co-Sleeping
There are also people who chose to have their baby sleep with them in their bed. If you are planning to co-sleep, do it safely. You can either add a co-sleeper attached to the edge of your bed or purchase one that can lay right on top of the mattress next to you. You can also buy bedrails that will help keep your child from rolling off (and trust me, it will happen).
Changing table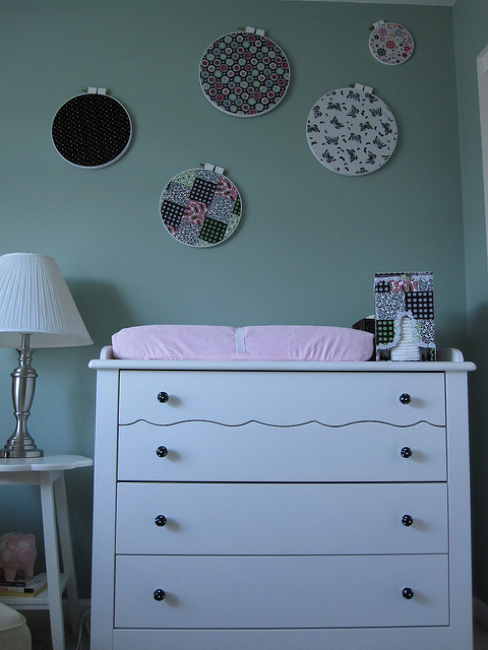 Changing Pad on a Dresser
There are so many unique ways to have a changing table without actually purchasing a changing table. I personally used an old vintage dresser that we inherited. I put a changing pad on top of the dresser and used one of the drawers for diapers and wipes. I also put a small basket on top for a few diapers, wipes, and baby powder so I had it all on hand during the act (especially helpful when it comes to blowouts). If you are planning on having your baby sleep in your room, then you can use your own dresser to save space.
Hide the Changing Table
Another option is to install a foldable changing table to the wall or even purchase a foldable pop-up changing table. This way you can push it out of the way when you are done. One of the most interesting ways that I have seen people conceal a changing table is by removing the doors of a closet and nestling it in there with all of the necessities. You can also invest in one of the cribs that have the changing table attached right next to it.
Storage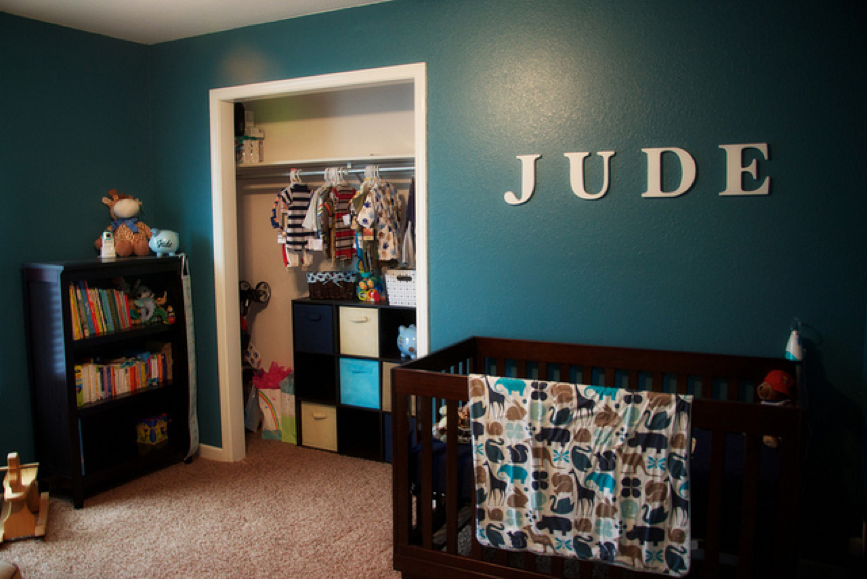 Under The Bed
You are going to want all the space you can get! For such tiny little things, babies have a lot of stuff. One of the most obvious spaces, but sometimes under used, is under the bed. You can slide a storage bin right under your own bed or the baby's crib. It keeps all those extras out of site and organized. You can use this method to store toys that aren't going to be used yet, books, or even the next milestone of clothing that you got from the shower.
Use Empty Wall Space
Another space that is great for storage is your walls and doors. You can add additions like bookshelves, spice racks, and coat hangers to walls. You can use these to store books, décor, and toys. I have seen some people even install closet rods on the wall to hang baby's clothing. You can hang shoe hangers right on the back of your doors for even more organized space.
There are so many different and clever ways that you can make a nursery work in a small space. There is even some awesome space saving baby gear that can help, too. Last but not least, if you live in a small space and you are out shopping or filling out your baby registry, ask yourself if you really need it. I know there's a ton of different baby registry guides and Pinterest boards out there. However, you have to ask yourself what do you really need and what do you actually have space for?
What are some of the space saving hacks you have used in your rental?