Even though fall is winding down and winter is about to hit, you can still bring a final burst of fall color and texture into your home with these five DIY fall craft projects from across the web.
Woodsy Photo Frame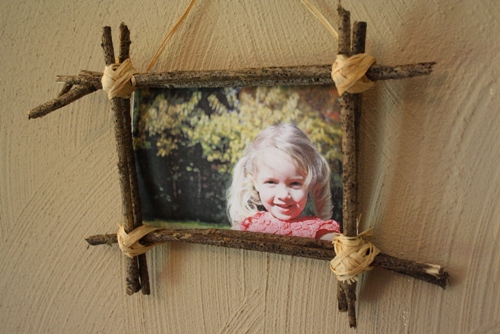 Use collected sticks to create this woodsy photo frame featured on LifeAsMom.com.
☐ 8 sticks
☐ Photo or art to place in frame
☐ Pen, paper, ruler
☐ Scissors
☐ Yarn
☐ Hot glue gun, glue
Draw a frame template on paper, sized to the dimensions of your photo or art. Break your eight sticks to match the template, using two sticks for each side of the frame. Leave at least 2 inches of extra length on each stick beyond the template length.
Cut four 6-inch pieces of yarn to secure the four corners of the frame. Arrange your first layer of sticks on the template. First place two horizontal sticks along the horizontal sides of the frame, with two vertical sticks placed on top of the horizontal sticks. Tie each corner in place with a 6-inch piece of yarn, knotting to secure.
Add you second layer of sticks. Place two more horizontal sticks along the horizontal sides on top of your first layer of sticks and two vertical sticks on top of that. Tie and knot in place with attached yarn. Cut off ends of yarn to neaten look.
Cut another piece of yarn, long enough to be used as a hanger for the frame. Tie ends of the yarn to the two top corners of the frame, knotting in place.
Apply hot glue around back perimeter of frame, pressing photo or artwork into place.
Fall Jar Lantern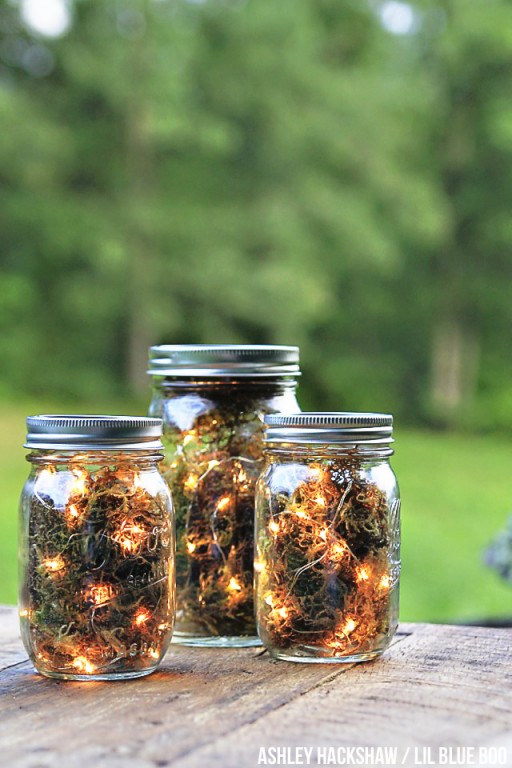 Light up your autumn evenings with this fall jar lantern featured on LilBlueBoo.com.
☐ 1 jar, either Mason jar or empty glass jar of choice
☐ 1 string of battery operated, timer LED lights in color of choice
☐ Small amounts of dried moss, acorns, small twigs, dried leaves and other
found fall décor of choice
Note: Create this project around dusk so you can set the lights on timer and they'll turn on at the same time every evening.
Insert batteries into light string and turn lights on, setting the timer option. Wrap battery pack with dried moss to hide it, then wrap a small portion of the lights around the moss. Place the moss bundle in the bottom of the jar.
Arrange remaining light string inside jar, intertwining between acorns, twigs, dried leaves and other chosen natural décor.
Layer items and lights until jar is filled to the top.
Pumpkin Centerpiece Vase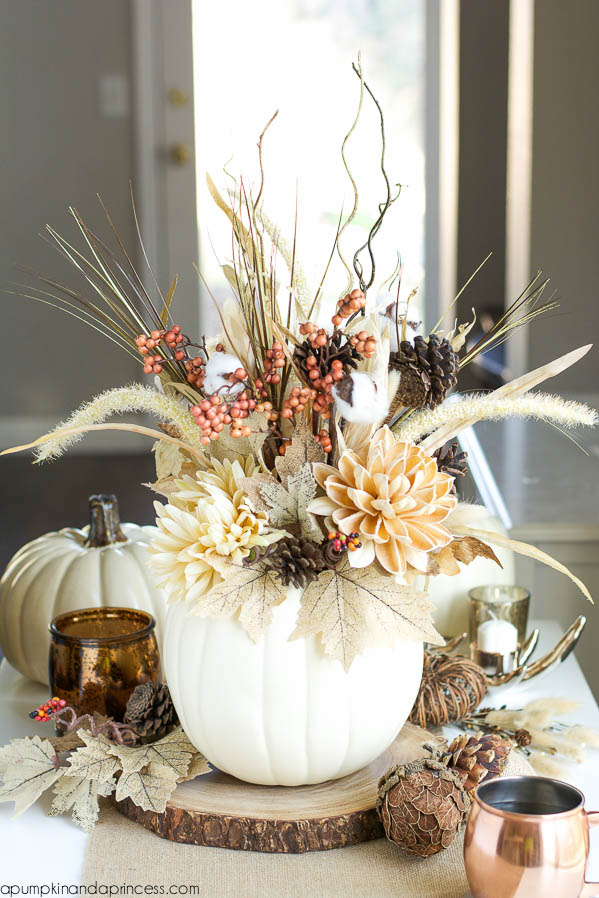 Adorn your Thanksgiving table with this creative pumpkin vase featured at APumpkinAndAPrincess.com.
☐ Fake pumpkin
☐ Small knife
☐ Styrofoam block
☐ Fall dried flowers and stems, store bought or collected
☐ Hot glue gun, glue
Cut stem off pumpkin, creating a hole large enough to insert Styrofoam block. Cut block if needed to fit. Glue block inside pumpkin.
Stick dried flowers, stems and other finds into Styrofoam block until pumpkin is packed to satisfaction.
Whether you head to the nearest wooded trail or craft store for your fall finds, you'll be amazed with the sweet array of autumn you can quickly add to your home.