So you just moved to a new place? I recently moved to a new home…odds are are that just like me, you'll have a huge list of to-do's. Changing your address isn't difficult if you make a list of the people & places you need to notify.
Getting started with these three:
1// United States Postal Service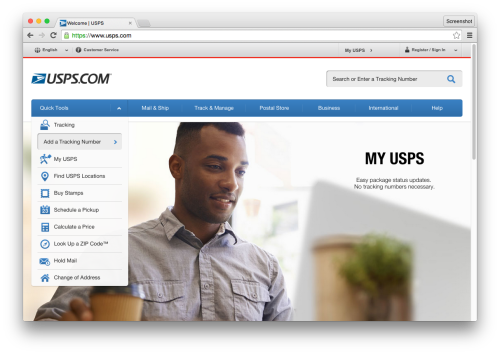 Your first step should be to change your address with the United States Postal Service (USPS)…just go to https://moversguide.usps.com. To make the process more secure, you'll be asked to verify your ID. The postal service will charge $1.05 to a credit or debit card with your name linked to it. You'll be offered coupons from home improvement stores and services that may help you save a bit of money at your new home (the most valuable to me were coupons for Home Depot & Lowe's).
After submitting your change of address, the USPS will begin forwarding any mail sent to your previous address. First-Class Mail, Priority Mail, and Express Mail will be forwarded for 12 months. Magazines will be forwarded for 60 days. "Standard Mail" which includes catalogs and ads are not usually forwarded.
2// Drivers License
You'll usually only have a few days after your move until you're required to notify your drivers license division of your new address (where I live, I only had 10 days). You'll be able to find instructions on changing your drivers license address on your state's DMV. Find yours at http://www.usa.gov/Topics/Motor-Vehicles.shtml.
3// Voter Registration
Don't forget to update your voter registration so you can start making decisions in your new city. Find directions to update your address in your state at http://www.eac.gov/voter_resources/contact_your_state.aspx.
Don't forget to notify this list:
Your family members
Your employer
Your former landlord
Your banks & credit card companies
Your utilities (cable, phone, internet, etc.)
Your doctor, dentist, and other medical professionals
Your insurance companies
Your child's school
Your pet's veterinarian
Your pet's ID tags (I get mine at http://www.pettags4less.com/)
Your magazines & newspapers
Your former landlord
Your alumni association/alma mater
A few ideas & suggestions for your new address:
Business-size "We Moved" Cards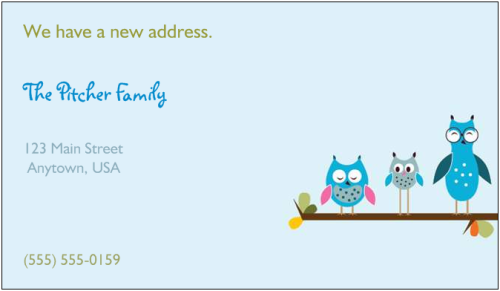 If you have friends like mine, you have probably received a "New Address" or "We Moved" postcard.
If you're interested in sending something to friends & family members to announce your new address, consider ordering a bunch of business cards from a site like VistaPrint (Sometimes you can get cards for free, after paying shipping, if you look for an "Economy" option.). "We Moved" business card-sized reminders are a lot easier for people to hang on to so they don't need to look up your new address.
Self-inking Stamps & Address Embossers
I don't send a lot of mail (but I did send a lot a few years ago). One thing that saved me a lot of time was my self-inking stamp with the new address. I bought mine at iPrint.com, but it seems like VistaPrint has the less expensive options.
Feel extra classy when you are writing a note or addressing an envelope by ordering an address embosser. Check out StampXpress if you want to see what an embossed address looks like.
Address Reminder
Write your new address on a piece of paper that you can keep in your purse or your wallet. It will probably come in handy when you're running errands and need to update your address. You'll also want your the address within reach in case of an emergency.