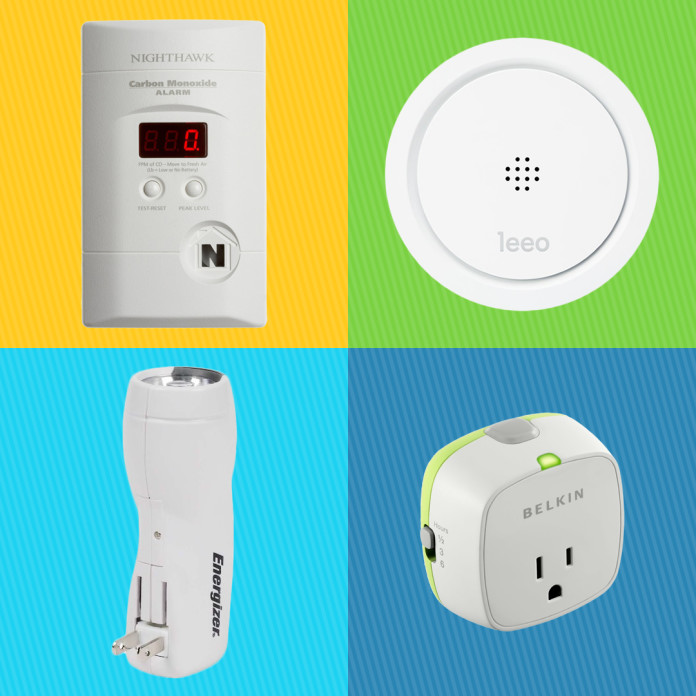 Make safety your first priority when moving in to a new place. For the first article in our Movable Gadgets series, we have picked five renter-friendly safety gadgets. They're even portable, so you can take these gadgets with you to your next place.


Carbon monoxide (CO) is a colorless and odorless gas and is the leading cause of accidental poisoning deaths in North America. It doesn't matter if you live in a house or apartment, this invisible gas is a killer. CO detectors have made the top of our list of things renters should have to make their home a safer place.
The CO detector featured is the Kidde Nighthawk. You can find it at:
Home Depot // Amazon // Walmart
Learn more about carbon monoxide safety from the U.S. Consumer Product Safety Commission.


Have you ever scrambled to find a flashlight after the power cut out? Were the batteries fully charged? Keep a plug-in flashlight in each room…some models will automatically turn on when the power cuts out.
The flashlight featured is the Energizer Weather-ready Compact Rechargeable LED Light (a model that turns on when the power turns off). You can find it at:
Amazon // Office Depot // Walgreens

You may have seen smart fire alarms that send a message to your phone when they detect smoke. Not only are they more expensive than standard alarms, they are often hard-wired and become fixtures in a home…not something a renter probably wants to be dealing with. Wi-fi connected alarms are awesome, but if you grab the Leeo your existing alarms be just as cool.
A Leeo is disguised as a choose-your-own-color night light (which in itself is a great safety device), but the real purpose of the Leeo is to listen for smoke alarm and CO detector beeps. If the Leeo 'hears' an alarm beeping, it sends a message to your phone and gives you a call. If you don't answer the phone, it will call your family members and let them listen to the alarm.
You can find the Leeo at:
Amazon // Leeo
Don't forget to check the batteries in your smoke alarms periodically.

Have you ever been away from home and worried about whether you've left the curling iron or space heater on? Plug your devices into one of these sockets. A 30-minute, 3-hour, or 6-hour timer will be set when you plug in the device…and it will automatically cut the power if you didn't unplug it first. It even saves energy when used with other devices.
This featured product is the Belkin Conserve Socket. It can be found at:
Amazon // Rakuten

Our final movable safety gadget is simple. It's an entry alarm with a magnetic sensor that will alert you when someone enters your home. Set an ear-cringing alarm or a friendlier chime when your doors or windows are opened. Installation is easy and doesn't require drilling holes in the door frame or window sill…a double-sided adhesive tape is usually included to attach the device (check with your landlord first). A fresh strip of double-sided adhesive tape can be used to use these devices at your next rental.
The featured product is the Door/Window Entry Alarm with Magnetic Sensor. You can find it at:
Amazon // Rakuten
Rentler was not compensated for this post. Please review all documentation from manufacturers on safely using these featured devices in your home.